Ever see a neatly organised filing system? The best part of that is that it reduces the clutter and finding something is easy. If anyone works like me, I have workspaces with 3 rows and 3 columns, a total of 9 workspaces, that I switch between but end up with piling all of the open windows in one, or the desktop that has all sorts of folders, some temporary, some permanent. The secret is out, I am not very good at organising my files. That is mainly due to the fact that there is so much content to work with and organising it all takes a lot of time.
Now, this app that we are looking at today is hardly the app that will organise anything for us, but it definitely will help tidy up the desktop to a minimal number of icons. Here's a small shot of my desktop, on a 27" iMac, I am totally out of space for new icons, the reason being very simple, there are files that I just dragged out of from an email, there are folders that I am working on, some that I need to drop stuff into. There is a black box folder that I have that holds everything from the Desktop once I think I am done with it.
Now, how can this be helped? The app is called Side Folders, available on the Mac App Store for $4.99, it is a heaven sent app that provides a sliding tab on the sides that can hold the folders where one can drag drop into or from.
So on starting the app, it slides out of the screen, hover the mouse over it and it slides into view, any folder that one works with on a regular basis can be added to the side folder list and when retrieving files from this, the application does not even lose focus. This definitely cleans up the desktop thereby offering a cleaner and more useful experience.
This is the finder option that has been missing, this can be comparable to the Library option available in Windows 7 that allows to bring together folders from different hierarchies into a single pane. A utility that one *has* to have.
Here's a snapshot of what a clean desktop *could* look like after using SideFolders, I shall post a screenshot of my desktop soon, the best part is that I can continue to work with the way I do, but instead of dropping stuff on the desktop, I can keep dropping them in SideFolders and keep my desktop clean. Now, if I could also have security and lock the side folder... (for some other day)
This is the Command Central for Files without moving to Lion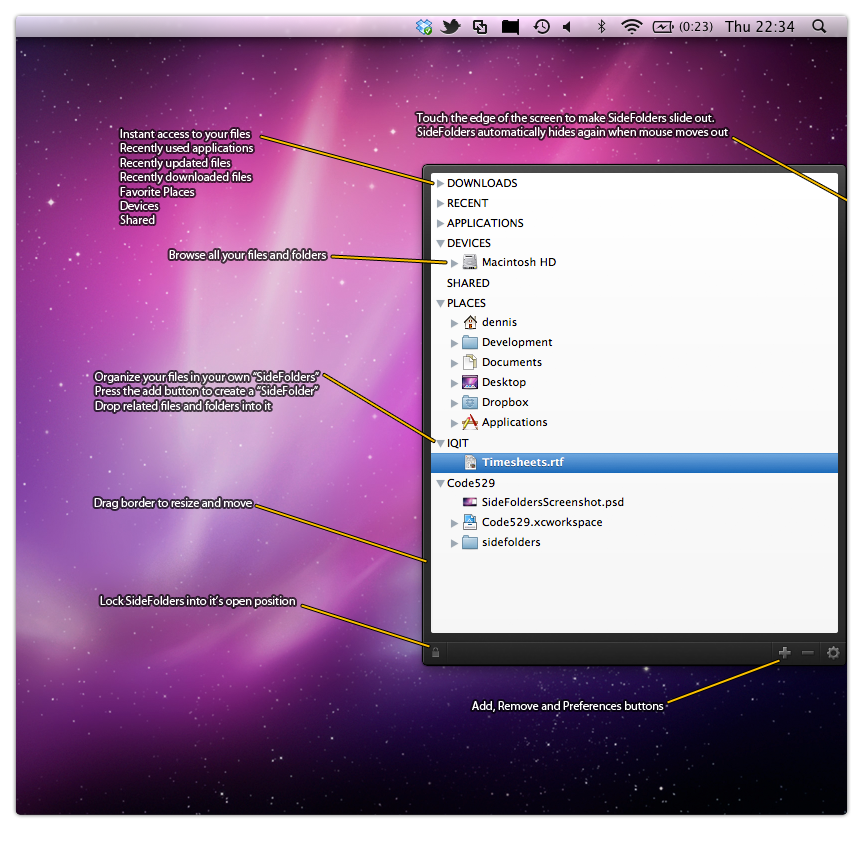 SUMMARY
Software : Side Folders
Version : 1.3.1
Publisher : Dennis Van Roeyen
Website :
http://www.code529.com/
Twitter : @TWITTER
Platform : Mac OS X (10.6.x or higher)
Demo : 14-day trial license
Price : $4.99
Mac App Store :
http://itunes.apple.com/us/app/sidefolders/id422670449?mt=12
And we have a copy of SideFolders for one lucky winner, all you need to do
1. Follow @whatsin4me
2. Retweet the message "Read reviewme.oz-apps.com, follow @whatsin4me and RT this msg. You might win a copy of #SideFolders from @code529"
or
Follow us on Facebook by liking our page at
http://www.facebook.com/pages/ReviewMe/137640632964588